Graphic, Web Design, and Apparel
Wide-Format Commercial Printing Products
Quality Printing Services
At Bezign, we offer high-quality sign and commercial printing services. From graphic design, to printing, to graphics installation... we do it all at a competitive price and with a quick turnaround time! We offer all types of wide-format print products including banners, retractable banners, table-top stands, a-frame signs, posters, foam core signs and displays, flyers, brochures, business cards, wall and window decals and graphics, car decals and graphics, car magnets, bumper stickers, decals, tee signs, yard signs, wrapped canvas prints and more!
Signs: Our signage is created using state-of-the-art commercial printing processes on a wide variety of materials including aluminum composite, coroplast, pvc, foam core, plexigalss, and more. We cater to various industries including signs for the manufacturing industries, service industries, realty, restaurants, churches, school districts, park districts, public sectors, and non-profit organizations.
Small Projects: We are always happy to help with small projects and we have lots of quality options in commercial printing for things like business cards and flyers.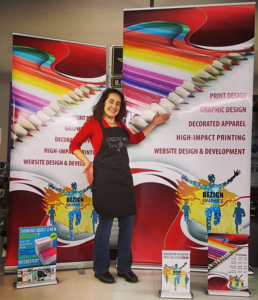 Graphic Design and Branding: We enjoy making your company and/or organization look good! From scratch start-up logos to design updates or revamps, we've got you covered (see our bezigndesign site for logo services). After the design is done, we can put your brand on all sorts of things from polos and tees (bezignapparel), to windows and cars, to all sorts of signs and beyond!
Service Areas: We offer print and graphics services to Simi Valley, CA, the Greater Los Angeles Area, Ventura County, Southern California, and within the Continental United States
For Information on Our Online Services (Websites and Hosting), please visit our Design Site: www.BezignDesign.com
For Information on our Decorated Apparel Services (Polos, Tees, Aprons), please visit our Apparel Site: www.BezignApparel.com
To Upload files that you'd like us to work on or have printed, please go to: www.BezignProofs.com
For questions, comments, or orders Give us a Call at 805-577-1500! We look forward to speaking with you soon!
What our Clients Say About Us